Tuition
Tuition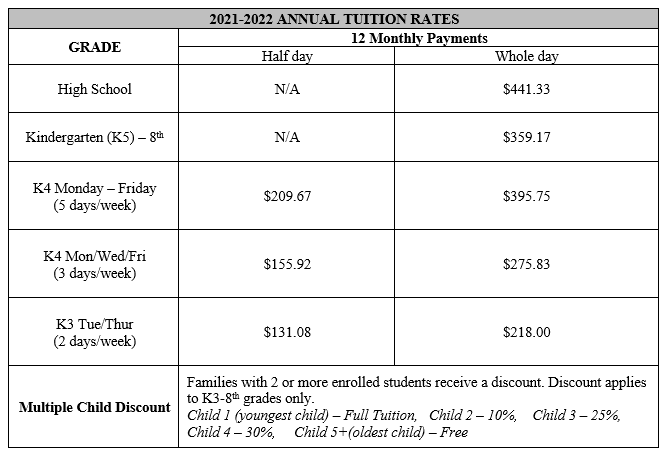 Other Fees
Enrollment Fee (non-refundable)
$65 per student per year
$55 per student if paid before June 1
Re-Application Fee (non-refundable)
$15 per student per year
$25 per student if paid before March 1
Operational Fee (per student) $150 annually
Security Deposit
Those paying in full (tuition, books and fees) are exempt from security deposit. All others are required to pay at the time of student's acceptance at the rate of $300 for first child, $200 for second child, and $100 for third child. Deposits can be used in whole or in part to cover tuition, books, before and after school care, miscellaneous expenses, hot lunch or any delinquency left behind. Security Deposit will be rolled over to the next year if remaining at HCS or will be completely reimbursed if all accounts are current upon exciting. Those families receiving tuition assistance will be considered on a case-by-case basis.
School Nutrition (purchases made as needed)
Hot Lunch $3.75/meal - milk is extra. (Lunch and milk are included in fees for whole day preschool)
Milk Cards $5.00 per card of 10 milk purchases
Book Fees (*Payable annually with tuition)
K3 K4 K5 1st – 5th Middle School High School Additional fees apply
* $100 / yr *$125 / yr *$240 / yr *$440/ yr *$445 / yr *$320 / yr for online classes
Before School Care & After Scool Care
Before School Care

Provided from 6:45 am – 7:30 am at $2.50 per student.

Billed monthly. K-5 through high school.

Not available for preschool.

After School Care

Provided from 3:00 pm –5:30 pm

$2.50 per student per half hour

Billed monthly. Kindergarten through high school.

Not available for preschool.
General Information
Heritage Christian School neither solicits nor accepts government funding of any type; therefore, it is imperative that fees be paid when due. By policy, all school accounts, (tuition, hot lunch, after school care, etc.) must be kept current in order for students to continue their enrollment at HCS. Student records are only released when all accounts are paid in full. Tuition and fees are subject to annual change by the Heritage Christian School Board of Directors
Payment Plans
1. Pay in full for the entire school year on August 1st. There are no discounts for early payment.
2. Monthly Payments via F.A.C.T.S. - automatic withdrawal from an account you specify - on either the 5th or 20th of each month. Families pay an annual fee of $45 to F.A.C.T.S. Tuition Management for this service. Tuition is prorated for those attending a portion of the school year. Students attending any portion of a month, are charged tuition for the entire month.

Referral
The Board has implemented a "student referral program". If you refer a student to HCS and that student consequently enrolls at HCS, your family receives a discount of $1,000 towards your current tuition for each referred student. The $1,000 discount will be prorated over four years (i.e. 25% in current year and 25% in each of the following three years) so long as the referred student is enrolled. This concept supports student enrollment while providing a tuition credit to the responsible families who introduce new families to Heritage Christian.
Refund Policy
Heritage Christian School will refund overpayments exceeding $1.00 unless directed otherwise. SevenStar and Alpha Omega classes are subject to their respective refund policies and practices.
Tuition Assistance Program Eligibility Policy
The HCS Tuition Assistance Program is designed to aid families of HCS students who are financially unable to render the full tuition due for their children. Students enrolled in grades K-3 (preschool) through 8th grades are eligible to participate in the Tuition Assistance Program.
Families must make application through a financial disclosure with Private School Aid Service. Use your regular FACTS log in credentials to access the payment plans and financial aide forms.
Tuition assistance is awarded as funding allows for up to 40% of the total cost of tuition, excluding books and fees.
HCS does not discriminate on the basis of race, color, biological gender, or national and ethnic origin in administration of its educational and admissions policies or athletic, scholarship and other school-administered programs.