Admissions Process

Heritage Christian School views education as a partnership with the home and church. This is His school. He has called us to this ministry. This is our service to Him and to you. Our caring, qualified teachers, Christ-centered curriculum, character development, and loving environment emulate family values for your children. The administration and staff seek to communicate closely with parents as together we foster spiritual, academic and relational growth. Prospective students must complete an application form and submit it to the Principal's office.
ADMISSIONS
Links to PDF application forms for students in preschool through 12th grades can be found at the bottom of this web page. Feel free to download and print the forms you need. Alternatively, you may contact the school office at 304.842.1740.
POLICIES & PROCEDURES
As a requirement of admission and continued enrollment, parents annually agree to abide by and support all the policies and procedures of Heritage Christian School.
* At least one of the parents or guardians must be saved and must live a life that shows a commitment to Jesus Christ, and must express a commitment of support to the school.
* All enrolled students are expected to maintain an attitude and commitment that is consistent with the goals and objectives of the school. If the student is at least age twelve (12), that student must express a desire to be at Heritage Christian School and express a willingness to live in accordance with the spiritual, academic, and behavior standards of the school. It is not the intent of Heritage Christian School to admit students who have recently experienced behavioral or emotional problems in school.
* Admission to Kindergarten requires that the student be 5 years of age before July 1 of that academic year (for K3, 3 years of age by July 1 and K4, 4 years of age by July 1).
* The student must have maintained at least a "C" average (2.0 grade point average on a 4.0 system) during the most recent academic year and grading period. Only under exceptional circumstances will a student whose grade average is below a "C" be considered for admission.
* Submitted applications become the property of Heritage Christian School. If a family chooses to withdraw an application or a student is denied entrance, HCS will shred the application. Upon acceptance, the application becomes part of the student's permanent record.
HOW TO APPLY
Heritage Christian School, Inc. admits students of any race, biological gender, ethnic, or national origin.
In order to apply, the following steps must be taken:
The application forms (PDF versions may be found at the bottom of this page) must be fully completed and returned to the school with the application fee. In addition, parents must provide a state-certified copy of the child's birth certificate. The office will make a copy and return the original.

A copy of the immunization record must be attached to the application.

Read the Heritage Christian School Parent & Student Handbook and sign and return the Parent and Student Handbook Affirmation to the school.

A transcript must be received from the applicant's previous school. A copy of any diagnostic and psychological testing that has been done is to be included along with any pertinent medical information.

Request that your pastor complete the Pastor's Recommendation and, if your child has previously attended school, someone from the school complete the School Recommendation reference. Both parties should send these directly to Heritage Christian School.

Once all of the above items have been accounted for, an admissions interview with the parents, student applicant and interview committee will be scheduled. The applicant (student) may be required to take a placement test to determine his/her academic ability and appropriate grade level.

The Heritage Christian School Board of Directors will review the application and the recommendation of the interview committee. The family will be notified by letter whether the applicant has been granted acceptance or denied acceptance. The registration process begins only after our Board votes to accept a student. Once enrolled, all students serve a probationary period of nine weeks.

A one-month Security Deposit of $300, first child; $200, second child; $100, third child; is required of all new enrollments and those with payment problem history. The Security Deposit can be used in whole or in part to cover tuition, books, before and after school care, miscellaneous expenses, hot lunch or any delinquency left by the exiting party. Deposit will be reimbursed if not applied to outstanding accounts. Deposit must be paid with enrollment fees upon acceptance and before attending any classes. Those paying in-full for the year are exempt from paying the Security Deposit. Security Deposits can be rolled over to the next school year.
TUITION & FEES
Heritage Christian School is a non-profit school. It neither solicits nor accepts government funding of any type; therefore, it is imperative that fees be paid when due. By policy, all school accounts, (tuition, hot lunch, after school care, etc.) must be kept current in order for students to continue their enrollment at HCS and student records are only released when all accounts are paid in full. Rates are reviewed annually and subject to change.



PAYMENT PLANS
Heritage Christian School neither solicits nor accepts government funding of any type; therefore, it is imperative that fees be paid when due. By policy, all school accounts, (tuition, hot lunch, after school care, etc.) must be kept current in order for students to continue their enrollment at HCS and student records are only released when all accounts are paid in full.
Security Deposit:
Those paying in full (tuition, books and fees) are exempt from security deposit. All others are required to pay at the time of student's acceptance at the rate of $300 for first child, $200 for second child, and $100 for third child. Deposits can be used in whole or in part to cover tuition, books, before and after school care, miscellaneous expenses, hot lunch or any delinquency left behind. Security Deposit will be rolled over to the next year if remaining at HCS or will be completely reimbursed if all accounts are current upon exciting. Those families receiving tuition assistance will be considered on a case-by-case basis.
Referral:
The Board has implemented a student referral program. This is an opportunity for currently enrolled families in good standing to receive a discount of $1,000 towards their current tuition for every referred student that is Board approved and is enrolled during the current school year. This discount will be paid over 4 years ($250 per/yr per/referred student) as long as referred student and referral family both remain in attendance. If the new student(s) starts at a different time other than beginning of school year, then that first year of referral will be prorated accordingly. This concept supports student enrollment while providing a tuition credit to the responsible families who introduce new families to Heritage Christian.
Payments:
Pay in full for the entire school year on August 1st. There are no discounts for

early payment (other than you are exempt from paying the security deposit).




Monthly Payments via F.A.C.T.S. – automatic withdrawal from an account you specify - on either the 5th or 20th of each month. Families pay an annual fee of $45 to F.A.C.T.S. Tuition Management for this service. Tuition is prorated for those attending a portion of the school year.

Students attending any portion of a month, are charged tuition for the entire month.



REFUND POLICY
Heritage Christian School will refund overpayments exceeding $1.00 unless directed otherwise.
Sevenstar and Alpha Omega classes are subject to their respective refund policies and time restrictions.
Tuition Assistance Program Eligibility Policy
The HCS Tuition Assistance Program is designed to aid families of HCS students who are financially unable to render the full tuition due for their children. HCS students enrolled in grades K3 (preschool) through 8th grades are eligible to participate in the Tuition Assistance Program. Families must make application through a financial disclosure with Private School Aid Service. Although not required, all HCS families have an opportunity to complete a six week course (through HCS) on family finances. Nominal fees are applicable for both services. Forms are available from HCS. Tuition assistance is awarded as funding allows for up to 40% of the total cost of tuition, excluding books and fees. HCS does not discriminate on the basis of race, color, biological gender, or national and ethnic origin in administration of its educational and admissions policies or athletic, scholarship and other school-administered programs.
Immunization Requirements
According to West Virginia law, no student is to enter school without written documentation (month, day, year) for each dose of required
immunization as given below. Thes minimum immunization requirements based on WV School Law 16-3-4 are :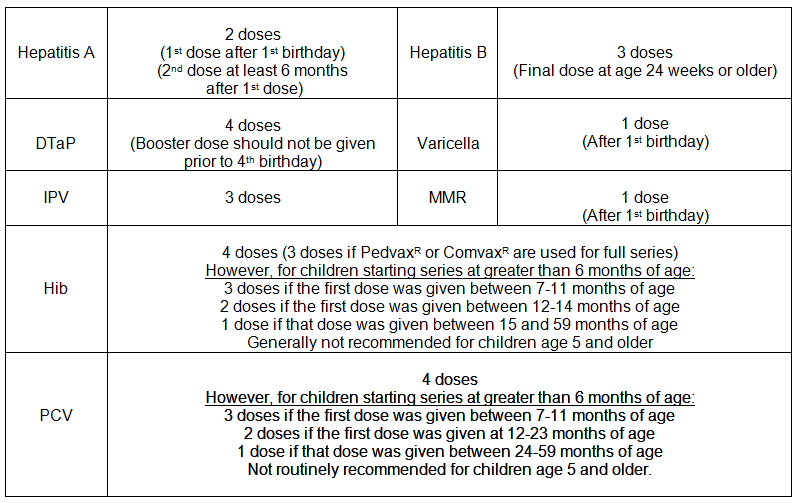 Students may be provisionally enrolled in Pre-Kindergarten with at least one dose of each
required vaccine and allowed up to eight months to obtain up-to-date status.
Tuberculin (TB) Skin Test -WV School Law 16-3D-3 states that all students transferring from a school located outside the state of West Virginia or enrolling for the first time from outside the state, shall furnish record of a TB skin test done with the result read and evaluated within the past four months prior to admittance to school. West Virginia School Law does not provide for religious or philosophical exemptions to this test.
7th Graders must show proof of a booster dose of Tdap vaccine which protects against tetanus, diphtheria, and pertussis (whooping cough) and a dose of MCV4 (meningitis) vaccine.
12th Graders also must show proof of a single dose of Tdap, plus a booster dose of MCV4 if the first dose of MCV4 was given before the child's 16th birthday. If the first dose was given after the 16th birthday, then a booster dose is not required.
To request a medical exemption for immunizations, parents need to acquire a note from the Harrison County Health Department stating that their exemptions are valid and that the student is given permission to attend school with the stated exemptions. West Virginia no longer has a provision for religious or philosophical exemptions for immunizations. (See WV Code § 16-3-4)
Screenings
Students entering preschool, kindergarten, and second grade must provide the school with a Health Check or other comprehensive physical form which includes vision and hearing screening. Beginning 2015-2016 school year, Kindergarten is required to have a dental exam within the last 365 days. Dentist needs to sign and date form stating child has had exam.
Birth Certificate
Students must have a birth certificate that is certified by the West Virginia State Department of Vital Statistics in order to enroll in any school in West Virginia. If born outside the state of West Virginia, a certified birth certificate is required from the respective state. Hospital and county certificates do not meet this requirement.
Student Application for Kindergarten thru Fifth Grade Students
Student Application for Middle School Students